Easy Blog Post Creation with WSM™
The News/Blog module consists of 3 elements: Topics, Articles, and Comments. Each element is discussed in this section.
To access News from your WSM™ dashboard, highlight Modules and click News. This screen will list all the created News Articles/Blogs.

Add Article – Use this button to add a new article. If you plan to add the article to a Topic, you can still begin from this screen.
Manage Topics – Click this button to access a list of Topics or to add a new Topic. This is discussed in more detail in its own section.
Manage Comments – Click this button to see a list of all comments. Comments are discussed in detail on the next page.
Adding Blog Articles
Articles are listed by the date posted. Below is the Add Article screen, which you access by clicking the Add Article button from either the News Articles or News Topics screen.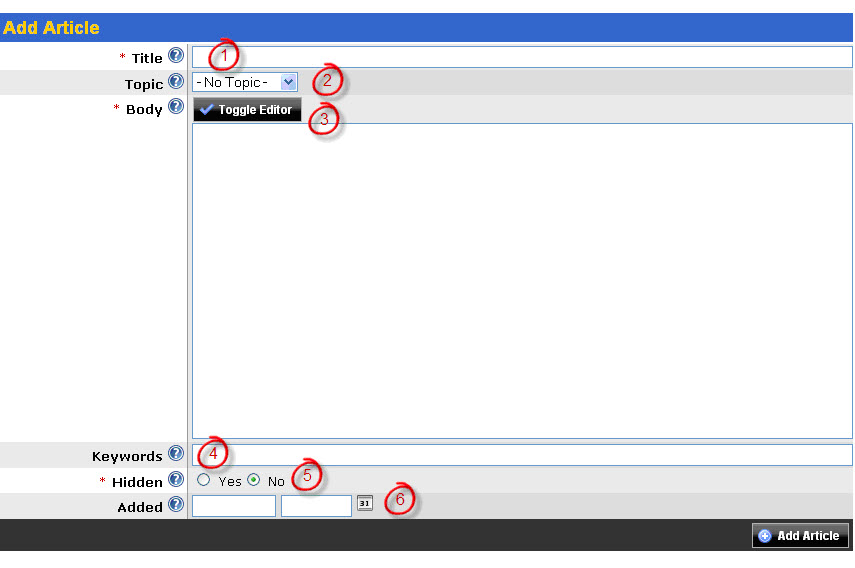 Title – The title of your article is displayed as the link on the news page. It is also used for the heading of the article and in the URL.
Topic – This drop down list will contain a complete list of all Topics that have been created. Do nothing with the field if you do not plan to use Topics or have not created one yet.
Body - WSM™ offers two views for creating the body of your article.
1) Text box as it appears by default. You can begin typing in the box provided with or without using HTML Code. Without formatting, the copy will default to appear as one long paragraph.
2) Toggle Editor, click this button to access an easy to use editor. Your display will change and you will have access to several tools for building the content on this site page. These tools include, but are not limited to, adding images, creating links, pasting content from Word, spell check, font display, and more. Use these tools to build a user-friendly page.
Keywords – Type words and/or short phrases that are relevant to your news/blog article and separate them with a comma. These keywords will help optimize your blog for search engines classifying and indexing your page.
Hidden - Whether the article should be available on the news and/or topic page. If you specify "Yes" for hidden, the page will not be listed or viewable.
Added – This is the date and time when the blog article was posted. If you do not specify, WSM™ will use the current date and time when you click the Add Article button.
Managing Topics
Topics are used to organize/group the articles you post. For example: Breaking News, Product Features, or even New Product News. Once you add a Topic you will be able to assign topics to articles.
To access or create a topic, click the Manage Topics button. This screen will list all News Topics that have been created.
To add a new topic, click the Add Topic button. Each numbered item is discussed in further detail.

Title – This is the title for your topic and will be displayed at the top of the topic page, used in the URL, and listed as a link at the bottom of each article that is classified by this topic.
Template - This determines which site template should be used when displaying the topic. If your site utilizes more than one template, click the drop down arrow and select the appropriate template. If your site only utilizes one template, you do not need to change the default selection of –none-.
Priority – Determines the sort order for topics. A higher number will move the item up in priority.
Hidden – When "yes" is selected this topic and all its articles will not be available for viewing.
Managing News Comments
Visitors to your eCommerce site must be logged in to leave comments on blog posts. This helps reduce the risk of spam and creates an opportunity to contact that commenter. Comments on blog posts appear immediately but can be moderated easily. To see the list of News/Blog Comments, click the Manage Comments button from the News Articles screen. If you are on the News Topic screen you will need to click Manage Articles button first.
From the News Comments screen you can delete or view each comment. This screen will also allow you to see which Article this comment was added too, who added it, and when.
Disable "Allow Comments"
Go to System Configuration > General
Uncheck "Enabled"

User-generated content is important in monitoring the interest level of your audience. Use comments as a way to gauge where there interests lie and how you can improve your call to action. If asked to comment on a blog post and no one does, try a more compelling call to action.
Fresh Content will Lead to Repeat Site Visits

Blogs are the perfect place to bring back site visitors over and over again. Fresh optimized content will keep the search engines and your site visitors happy. Through consistently providing insightful content that is relevant to your prospective customers, they will return to you when it is time to make the purchase.