Advanced Product Options Module
Simplified Product Pages for a Simplified Shopping Experience
eCommerce websites offer a unique challenge in listing products. So many products require customized options, additional information, and special pricing for certain modifiers. In a perfect world it would be simple to:
List 100s of SKUs with many size, color, and separate pricing options
Navigate product pages for an intuitive shopping experience
Establish Global Product Options when product options are shared by several SKUs
Create SKUs and Inventory levels that are specific to a color/size combination
The good news is this is possible (and much more) through Web Shop Manager's™ (WSM) all-encompassing Product Options Module.
Enhanced Product Listings
You will be amazed at the usability of the Product Options Module. Not only can you list modifiers including size and color, but consider some additional applications:
Specifying a surcharge on certain finishes or sizes
Customizing product based on customers specified text or images (think engraved, or screen printed products)
Ordering now but not shipping the order until the date selected by the customer
Limiting the number of red-small T-shirts to the amount of inventory available for that combination
The option settings are endless…use your imagination and experiment to find the best options for your products.
Global and Unique Product Options
Before creating a product option decide if it fits in the global or unique category.
Global Options - used with multiple products i.e. sizes of t-shirts
Unique Options – used for a specific product i.e. an item with limited availability but with two size options
This decision will make a difference where you add the option in WSM™.
Below are instructions for creating both.
Global Options
Highlight Catalog on the WSM™ menu and then click Options.

Click the Add Option Set button.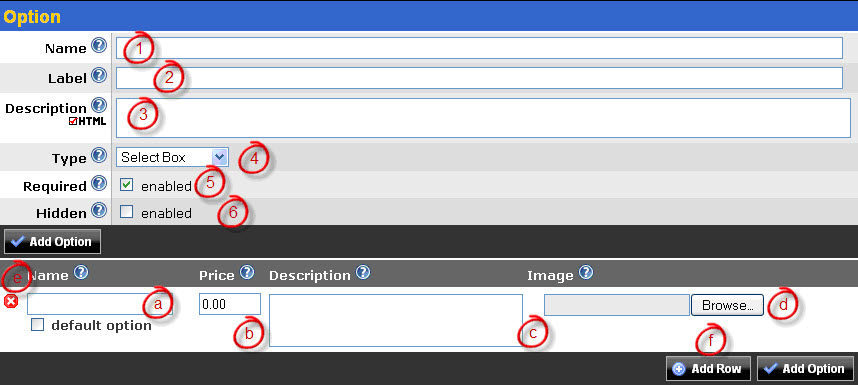 Name – This is use to best describe the option you are establishing. This should be short description, i.e. Size. This information is for internal use only (displayed on the product page when editing or creating your products). This field is required.
Label - This field updates the label for your option set that is viewed in the customer's cart and checkout pages. It is also used on the product page unless you provide a description; the description will override the label on the product page for all Types (see #4) except Select Box (see #4).
Description – Used for additional information and is only seen on product pages. When this field is used, it will override the label information. The description allows for flexibility in describing the options to your customers. If the Type chosen is Select Box the description will appear above the box. If a description is not provided when using Select Box (not required) no information will be displayed.
Type – This field allows you to specify which type of option you are providing your products with. Each type explained:
Select Box – Will create a dropdown list on the product pages that is generated from the information provided by you. Each field is discussed:
Name - This is the option value name that will appear in the dropdown list. i.e. S, M, L, XL, etc.
Default option – When the box is checked this value will appear in the dropdown box. If you do not select a default option 'if provided' will appear.
Price - This is the price, when provided, will be added or subtracted from the customer's cart.
Description – The information provided in this field will appear as hover text over the value in the dropdown.
Image – An uploaded image will appear when the customer hovers over the value in the dropdown.
Remove – Click the remove icon to delete the value from your list.
Add Row – Click this button to add a new value to your list.
Text Field – This Type will create a text box for your customers to provide additional information required for the purchase of a product. For instance, if you sell engraved products, the customer could specify the text of the engraving.
Image Upload – If you choose this Type your customers have the ability to upload an image from their library. For example, if you offer products with customized images, they could send you that image file through this field.
Date – When selected, a pop out calendar is added to your product page. When the customer clicks in the box, a calendar appears allowing them to select a date. This may be used for specifying an exact shipping date of a product i.e. for perishable food items.
Date & Time –Customers are given a text box to specify the time as well as the date.
Required – You are able to dictate which fields are required to complete a purchase and those that are optional.
Hidden - When checked, the option selected will not be shown in the cart or checkout, but displayed only on the product page.
Remember to click Add Option or Save Changes before exiting this page to finish creating or to save changes.
Unique Options
You can create Unique Options two ways:
1) From a product screen
2) Assign it to a product, and then edit the option and remove the checkmark from the Global setting (shown above)
NOTE: you can only change a Global Option to a Unique Option if it is only assigned to one product. If you have assigned the option to more than one product, the Global checkbox will be grayed out.
If you choose to create a Product Option from the product screen:
Edit the product and scroll down to the Options & Tags section
Click 'Add Options Set/ button
WSM™ will display the screen shown above in a new window. When you create an option in this fashion WSM™ assumes that it is a Unique Option.
Editing Options
Options may be edited at any time. The edits will automatically update the product, or product pages, where those Global or Unique Options were assigned.
To make a modification, first, click the edit icon next to the option you would like to edit.
You are able to edit Unique Options from either the Product page itself or the Options screen.
NOTE: you can only edit Global Options from the Options screen.
There is one additional field that should be mentioned when you are editing an option:
Global – When checked, this field allows you to assign this option to multiple products. If you are establishing a Unique Option then uncheck the box.

Copying Options
You can easily create new options that are similar to previously created options. From either the Options page or the Product page (depending on the option you are copying):
Click the copy icon
1. From the Product page a new option will be added to your list beginning with "Copy of". Click the edit icon to customize the Option.
2. From the Option page when you click copy, WSM™ will ask you to confirm that you want to copy. It will automatically open the copied option and you can begin editing.
Remember to click Save Changes before exiting this page.
Ordering Options
If you are assigning multiple options to one product, you can use a numbering system to give priority to the order they should be displayed. Remember, the Name field is not displayed to your customer. For further explanation see the graphic below.
Please note that some options display the edit icon while others do not. This is the difference between Global and Unique Options. The Unique option will have both the edit and copy icons.

Assigning Options to Products
To assign an option(s) you must first edit the product:
Scroll down to the Options & Tags section of the page
Click the checkbox to place a checkmark for the options you want displayed on the product page
To remove an option from the product:
Click the checkbox to remove the checkmark - For example, in the screen shot above, "Master Configuration for Sectionals" is not displayed on the product page.
Product Inventory Management with Product Options
If your product SKUs are based on a combination of options ie red/mediums, or yellow/larges our Product Inventory Management system now allows you to assign specific SKUs that way! In addition, Inventory levels can be set in conjunction with those combinations to make sure your customers are purchasing exactly what is on your shelves.
This feature is available to all WSM customers, but must be enabled by a WSM staff member. If Inventory Management is an eCommerce feature that you would like to learn more about click on Inventory Management for additional information.
So Many Options Modified in so Little Time
WSM™ comprehensive Product Options give the site owner complete control over how much or how little is added to the Product Pages. From images, price modifiers to page styling WSM™ makes it easy to provide your customers with the shopping experience you would like them to have.
Contact us today to discuss how to take control of your Product Pages.