eCommerce Customer Reviews & Ratings

User-Generated Reviews and Ratings Improve Overall Health of eCommerce Sites
With the rise of eCommerce the face of retail has been changed forever, enter Social Shopping. No longer do people need to turn to their friends or consumer publications when making purchasing decisions. They expect transparency and they want to make their decisions based on a set of unbiased people with the same interests.
So where do eCommerce shoppers turn?
Search Engines
Social Media
Ratings & Reviews
eCommerce Blogs
Comparison Shopping Sites
WSM™ offers an integrated module for eCommerce Customer Reviews & Ratings as part of its comprehensive eCommerce Content Management System (CMS). Once submitted by your eCommerce customer, Product reviews and ratings are moderated and appear on product pages as soon as they are approved. Offering you complete control over what user generated reviews and content does, and does not appear.
Something to consider: Negative comments are often times due to misuse or misunderstanding of a product. Use the negative comments as an example of your attentiveness to their issue and respond in a thoughtful, timely manor. Your customer service will be the point prospective eCommerce customers remember and perhaps turn them from a lead into a paying customer.
Additional Benefits of Integrating WSM™ eCommerce Customer Reviews & Ratings:
Improved SEO – Search engines crawl product and customer Ratings & Reviews which enhances the effectiveness of your pre-existing Search Engine Optimization (SEO) efforts. While adding unique free content separates your eCommerce site from the competition.
Demonstrated Trustworthiness – Authorizing Product Ratings & Reviews proves that you stand behind the products on your e-Commerce site and are not afraid of what will be said about them.
Increased Sales – eCommerce consumers base purchase decisions on the type of information that is important to them. If your site offers Product Ratings & Reviews and a competing site does not, then your site might be chosen based upon their perception of the reviews.
Inspired Site Content – You may find that several individuals have the same misconception, or questions about a product. You can take that information and form an eCommerce blog post around it. Serving several purposes:
Prospective customers can have their questions answered so they feel confident
about the purchase
The blog post provides another opportunity for SEO
Consumers can feel confident that if there is an issue with a product
you will be quick to respond and resolve it
Cultivate an Active User Base through Reviews & Visitor Comments
Allowing unbiased, unsolicited reviews your customers will be encouraged to share their opinions. The eCommerce site manager has the opportunity to respond to those reviews in a thoughtful way. Creating a sense of something bigger than just buying a product will foster meaningful relationships that lead to customer retention.
These principles of community management can be applied to other areas of your site including both the Photo Gallery and Blog.
Comments made to the Photo Gallery and Blog appear immediately and an automatic notification is sent to the site admin. Managing those comments can easily be done through WSM's™ extensive eCommerce Content Management System (CMS) .
WSM™ requires that your site visitor be logged in to leave a comment, review or product rating, decreasing the risk of spam. Requiring login information also gives the site owner access to the users contact information. With this information the site owner retains the ability to respond to a comment publicly or by sending an email separately. Remember that even negative feedback can be beneficial. If handled properly your response can demonstrate:
Attentiveness to the site's visitors
A willingness to interact with site visitors even if they are providing negative comments
Eagerness to see more dialogue
Additional site visitors will feel encouraged to participate if the dialogue not only comes from consumers but directly from the company. Use each opportunity available to establish relationships and a connection that runs deeper than just products.
How it Works
Customers can simply click on the "Product Rating" link located directly below the item information.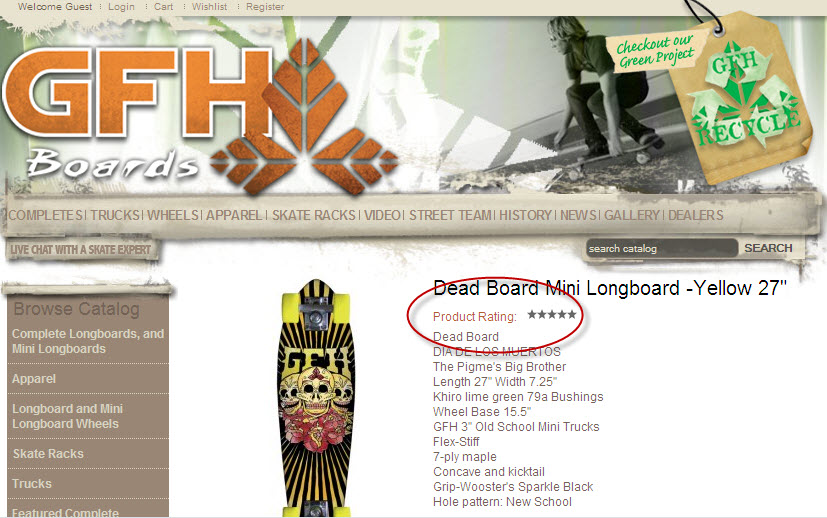 2. They will need to login, or create a new account if they do not already have one. The registration process is simple and will help protect against spam.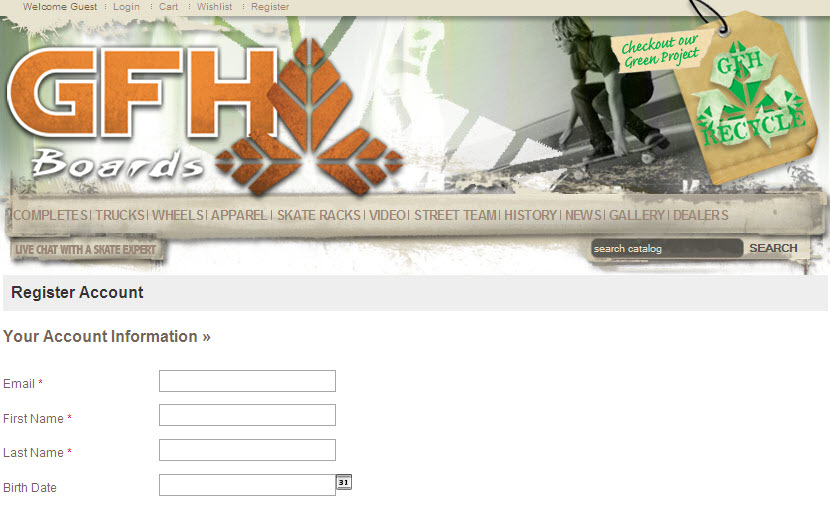 3. The customer is now able to give the product both a review and a rating. After they are satisfied with their response they post the review.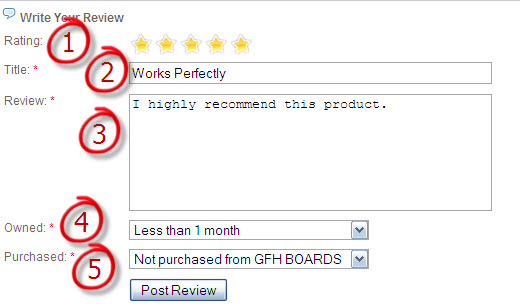 a. Customer is able to give rating 1-5 stars (this is not a required field)
b. Review must be given a Title
c. The customer can write a detailed review
d. More information is gathered about how long ago the product was purchased
e. They must specify if the item they're reviewing was purchased from this site or from another.
4. An email is automatically generated that notifies the site administrator that there is a new comment to approve. Then the site administrator logs into their account and navigates to Catalog, and then Reviews where they can view, approve, or delete the comment that was made.

5. Product review is posted prominently on your product listing.

Put Social Shopping with Customer Product Reviews & Ratings to work for your eCommerce Site today!
If your product deserves more than a static site to call home, consider incorporating eCommerce Reviews & Ratings for your eStore. By choosing WSM™ for your eCommerce solution you are enabled to take advantage of these amazing features right out of the box.
When you are ready to take your eCommerce store to the next level be sure to contact WSM™ for your free quote.